SOLD
BRAECREST CARNABY
Can this guy be any more special?  We are overjoyed with Capriole's 2022 colt.   With outstanding proven performance bloodlines through both dam and sire, this colt is no doubt an incredibly exciting youngster.
He is sired by the KWPN stallion 'Creme de la Creme'.  Creme de la Creme is by top Hunter and Jumper producer Cream on Top. Cream on Top has not only proven his own quality by competing up to Grand Prix, but his offspring are showing time and again that the quality in this line is extraordinary. Creme de la Creme is the first and only son of Cream on Top available for breeding in North America.  Concorde (Voltaire), Cassini I, and Vittorio can all be found in this boys pedigree.
On the mother side, we have two stallions that need little introduction….Cabardino and Rio Grande.  Cabardino has proven himself as an international champion in performance, as well as a top producer over and over again through his outstanding offspring.  He has been ranked in the top 5 USEF Leading Hunter Sires for the past 6 years, taking the #1 spot both in 2017 and 2018.  Rio Grande won more Hunter Championships than we can list, several International Show Jumper classes, and he was victorious in Nations Cups as part of "Team Canada" on more than one occasion. He is best known for producing some of the best hunters that competed in North America.
This colt has such a remarkable disposition, willingness to connect and engage with his people, and unbelievable charm.  He is beautifully correct in his conformation and has the most fabulous head and neck. He would be a very competitive young horse to show on the line until he is ready for his performance career.
As with all the foals we produce at Braecrest, we also offer young horse board until owners are ready for them. Our handling and development programs are second to none, as well as we offer showing in-hand opportunities, and foundation training/starting under saddle when age appropriate.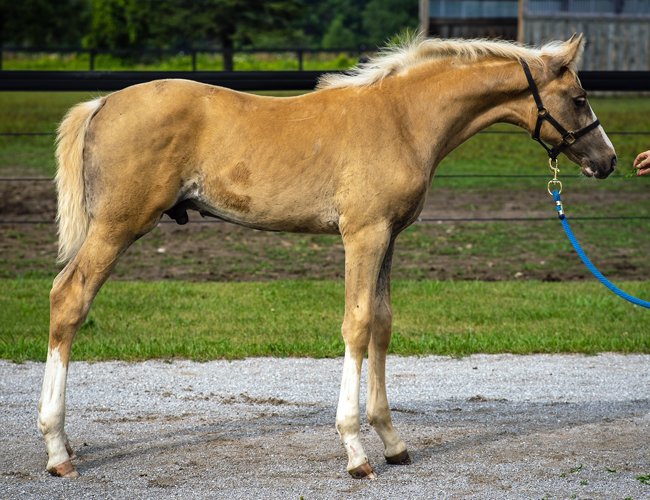 DOB: May 27, 2022  BREED: KWPN x Holsteiner (CSHA)  HEIGHT: TO MATURE 16.2HH +
SIRE: Creme de la Creme  DAM: Capriole W (Cabardino x Rio Grande)