TRAINING – THE CONNECTION
I have been so lucky to dedicate my life to connecting with, training, and learning from horses. It is true that training horses is a journey – if you stay open-minded and free of ego!
As a young girl, I was aware of some kind of magic the horses had. I know that can be a silly thought, but I'm not sure what else to call it. Connection with a non-verbal, entirely different species and developing trust, confidence, and a language that both horse and human understand is magic to me. I knew this was my purpose and calling – to hear them, advocate for them, and help connect horse and human. My passion for the breath-taking classic hunters, to the incredible athleticism, scope and power of the jumpers, fuels my desire to connect the very different worlds of show horses with the remarkable benefits of working in a more mindful, connected way.
…we were welcome to participate in the training to continue our relationship with Cal and learn about Claire's training style.  The training was systematic and thorough, always focused on positive developments, including supporting his learning to make 'the right decisions'.
– K.Bennett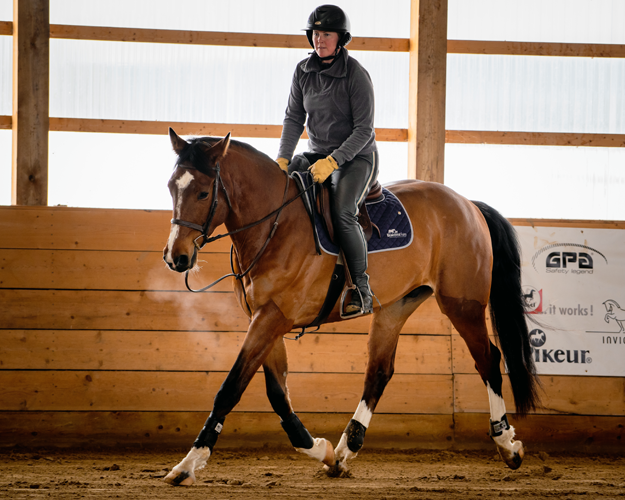 Over the years, I have studied and practiced many different training techniques from all walks of the horse world. Including training methods used at the race track, to long lining and ground driving, to round pen work, ground work and body work, natural horsemanship techniques and theories, to traditional hunter, jumper, and dressage training. I have taken the methods I saw value in, and that the horses thrived with, and left what was unproductive and potentially harmful. This allowed me to evolve my own program and methods of foundation training. Along the way, the horses have also shown me remarkable things. I have constantly fine-tuned my methods and what I have to offer the horses with this knowledge. It is exciting that this keeps getting better and better.
Claire herself is truly a very professional horsewoman and I can't say enough about her way with horses and her training program. She has a very calm, quiet manner and is sensitive to each individual horse's needs. I could have spent every day, all day watching her work with the youngsters."
– S. Garrett