Braecrest Sir Jamestown (Steve) is the 9th foal from our spectacular producer, Revel Sel De Mer.  This outstanding mare has produced perfection through all her offspring… Amateur-friendly hunters and jumpers, with the most fabulous canters, scopey, classic jumps, and excellent presence.  Her 2021 colt is certainly no exception to her world-class progeny.
We decided to name our 2021's after awesome people….thus the barn name 'Steve' for this charming colt.  Steve has been our feed supplier of Brooks Feeds and various other supplies for over 18 years. He continues to supply us, even with our move to Oro Medonte in 2013, over an hour from his store! Thank you, Steve – we are so grateful.
Steve, the colt, really could go multiple directions. He has three very good gaits with beautiful cadence and suspension. I can see him in the hunter rings, equitation, or hunter derbies.  He has an in-your-pocket personality, has been well handled since the day he was born.  His family is known for having great feet, and long-term soundness through body and mind.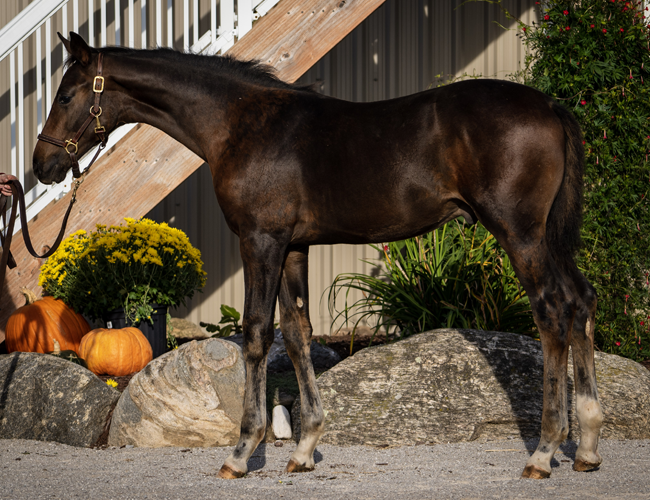 DOB: June 13, 2021  BREED: Oldenburg x Selle Francais
HEIGHT: TO MATURE 16.3 – 17HH
SIRE: Sir Gregory  DAM: Revel Sel De Mer (Jamestown x Pablo x Figaro)